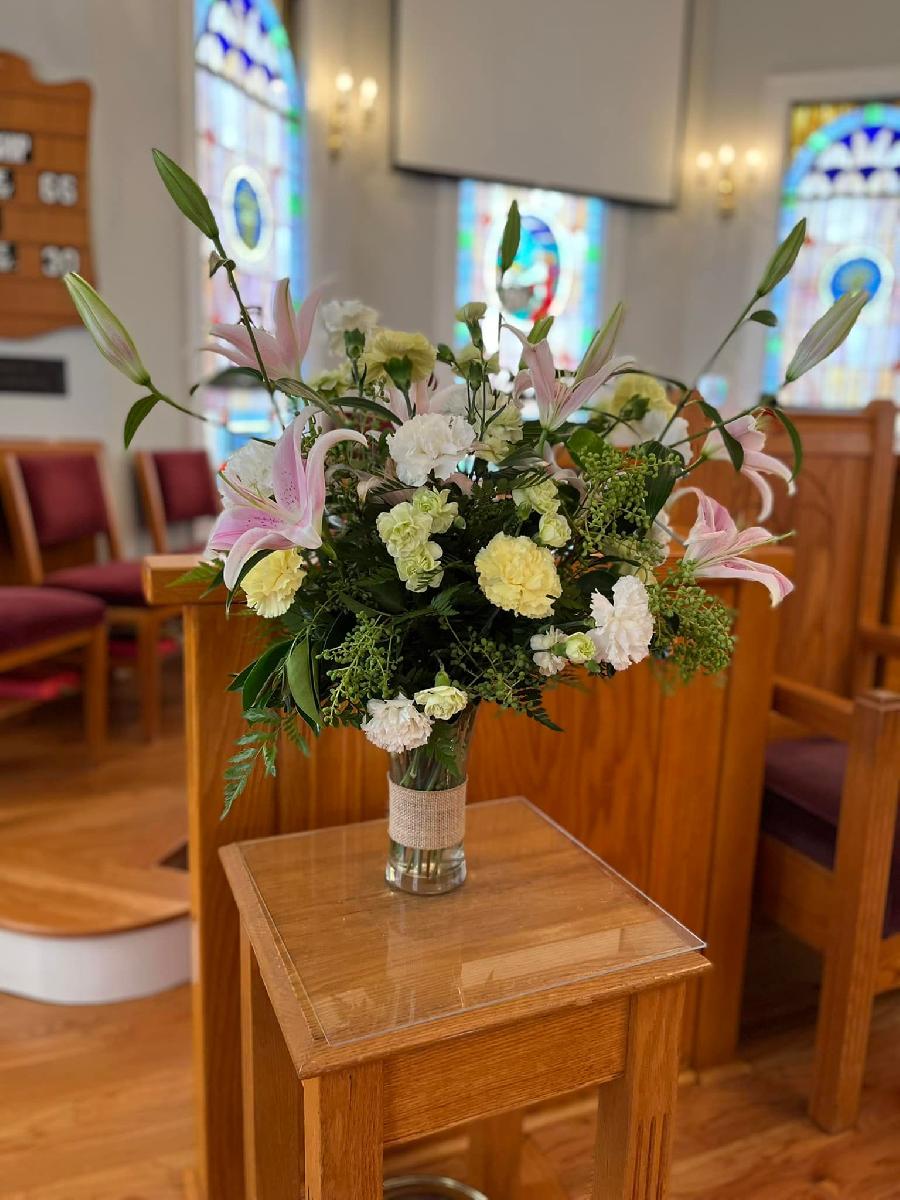 Special Announcements
PRAYER VIGIL
We ask that everyone be in prayer on Tuesday, June 6, as the Annual Conference votes to approve those churches who are seeking separation. Since we are unsure of what time the vote will take place today, we will not meet at the church or Fellowship Hall to pray.
FARMERS MARKET
Georgie, Sarah and friends will be selling baked goods, tee shirts and bows at the Moncks Corner Farmers Market every Thursday from 3-7 pm. Look for them as well as Jim and Fran Bunch selling tomatoes to raise money for the Moncks Corner Kiwanis Club.
MESSAGE FROM S/PRC
The Pinopolis S/PRC has two people who have expressed interest in our pastorate and have accepted our invitation to be a guest speaker and meet our church family. Dr. Sam has graciously given his time in the pulpit on Sunday, June 11, and Sunday, June 18, respectfully, for these two guests to speak to us. We would ask that you plan to be present these two Sundays so that you can hear their messages and make comments to the S/PRC if you desire to do so. Please let others who may not attend regularly know of these dates as well.
The S/PRC does feel as though our church family should be involved and informed to be able to share thoughts with regard to a new Minister. Please pray for our church family as we make decisions for the days ahead.
After the service on both Sundays, we will share a meal with each Pastor so that you have an opportunity to meet and talk with them. This will be a covered dish lunch so plan to bring a dish or dessert to share. The church will provide the meat for the meal.  Invite your friends and neighbors! We hope to see you there!!
Serving Christ with you,
PUMC Staff Parish Relations Committee
UMM MOVIE AND MEAL
The United Methodist Men will host a dinner a movie night on Friday, June 16, in the Fellowship. Dinner plates of hot dogs and hamburgers will be sold starting at 6 pm. The movie, Diary of a Wimpy Kid: The Long Haul, starts at 7 pm.
NEW WEBSITE
Be sure to check out our new webpage at pumc.churchtrac.com. It includes an up-to-date calendar of events and announcements.
CELEBRATIONS
Prayer vigil on Tuesday
Great baby shower for Walker Knox Owens, grandson of Will and Jolinda Phillips
Connor Yaden gets confirmed on June 11
Connor Yaden made All-Star baseball
Vote on separation
Ann Maggard's parents doing better
Move Forward Fund


CONCERNS
Nickie Linville
Charlie Glover
Shelle Jones
Arleigh Wells
Charlotte Hess
Goudine family
Infant Olive
Nicole Brevard-Hines
Ken Lehman
Ken's brother, David Lehman
Susan Hill – Hospice
Hugh Hernandez
Steven Jones
Jerry Peterson's sister, Donna
Linda Collins – knee replacement
Myra Whaley and family
Lib Rentz
Unspoken
Vote on Tuesday
Those traveling
Kiwanis Club scholarship golf tournament on Thursday
If you have any prayer requests you would like to share with the congregation or the pastor, please email them to the church office. If a name needs to be added or removed from our prayer list, please contact the church office. 
Pinopolis United Methodist Church
1833 Pinopolis Road, PO Box 521, Pinopolis, SC 24969
Copyright &copy 2023 ChurchTrac Software, Inc.